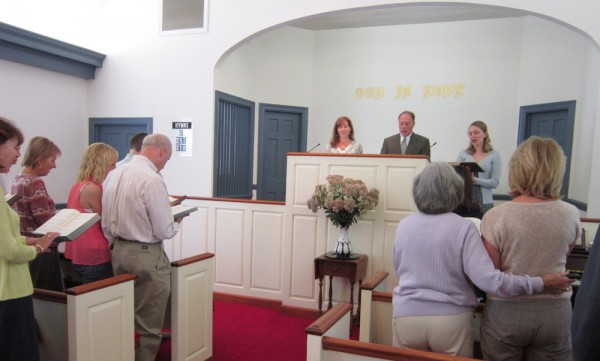 Christian Science is a practical, proven system of spiritual healing that can be applied to every aspect of life. Based on The Bible and the Christian Science textbook, Science and Health with Key to the Scriptures by Mary Baker Eddy, this comforting, uplifting, rejuvenating religion is grounded on the principle that man is the perfect child of God, Divine Love. Centered on an omnipresent, omniscient, omnipotent God who is all good, Christian Science seeks to "commemorate the words and works of our Master, which should reinstate primitive Christianity and its lost element of healing" (Church Manual, p. 17). We recognize the Christ, the healing principle expressed in Christ Jesus' life mission, as available to all in every age.
Discovered in 1866 by Mary Baker Eddy following years of consecrated Scriptural study, Christian Science is built on the Science of Christianity as taught and lived by Christ Jesus. Mrs. Eddy explained this system of spiritual healing in her primary work, Science and Health with Key to the Scriptures, published in 1875. In 1879 she founded The First Church of Christ, Scientist in Boston, Massachusetts. Our church is one of the democratically run worldwide branches of this church which are today located throughout the United States and 75 countries.
The healing principle of Christian Science is just as relevant and immediate today as it was in Christ Jesus' time. As stated in Science and Health, (p. 494) "Divine Love always has met and always will met every human need. It is not well to imagine that Jesus demonstrated the divine power to heal only for a select number or for a limited period of time, since to all mankind and in every hour, divine Love supplies all good." Students of Christian Science around the globe daily strive to prayerfully understand and demonstrate more of this truth. We invite you to join us in this prayerful work.
Links to help you explore Christian Science further